A couple of weeks ago, I received a question from one of our blog readers on how to create columns.  Creating columns is useful for creating your own newsletter, brochure, or to experiment with how your work might look in a newspaper column.
Creating columns in Microsoft Word or OpenOffice Writer is fairly straightforward.  First, go to the Format menu and select "Columns…"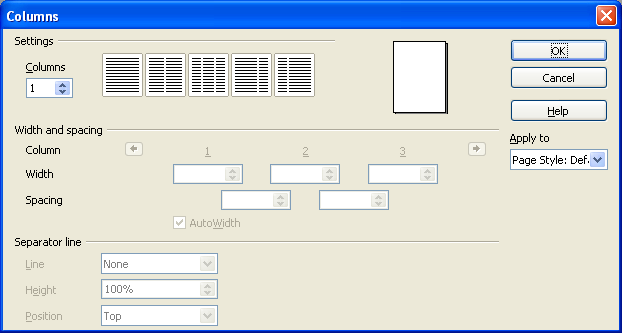 As you can likely guess from the above picture, you can choose the number of columns (this image was taken from OpenOffice Writer, but there is a similar menu for Microsoft Word).
Once you've selected the number of columns you desire, you can then adjust the width as needed.  Here's an example of  two columns with a 0.5″ spacing:
There are many more complex things you can do to change how the columns are displayed.
For example, you may want different column styles in different sections of your document.  In that case, you'll want to insert a page break (Ctrl + Enter) and set up each set of columns separately (in the same manner as what was described above).
Good luck as you work on your articles.  If you'd like further details, please respond in the comments and I'll either update this article or add a follow-on with more advanced features.
Visit our: Community | Services | Store
Liked this blog entry? Vote up on Reddit or Tweet the URL!